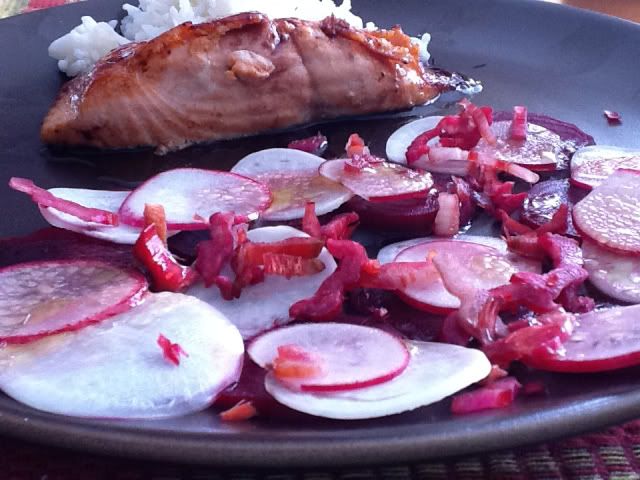 Oh, I had plans. Everything was going to be pink and overwrought. I'm well known for having no plating style, but I would kill with pink.
Turns out only the salmon fillets were pink. A kind of golden-brown pink, once they were cooked and drizzled with a cherry vinaigrette. A big blob of just-sitting-there.
And the rice? No style at all, none. Plain white. At least it wasn't green.
The dazzle for our Valentine's dinner would have to be the salad.
I wanted to toss rose petals with it, but the rose bush didn't cooperate. And I couldn't think of any pink salad ingredients, besides salmon, so the salad ended up red and white.
Not that there's anything wrong with that!
You are looking at scarcely cooked beet slices, topped with mandolined raw white turnip and radishes. There is a scattering of almost-pink vegetal matter on top, really yummy. Ready? OK, it's chopped raw stems from red chard. Try it!
Man, I'm glad this only comes once a year.