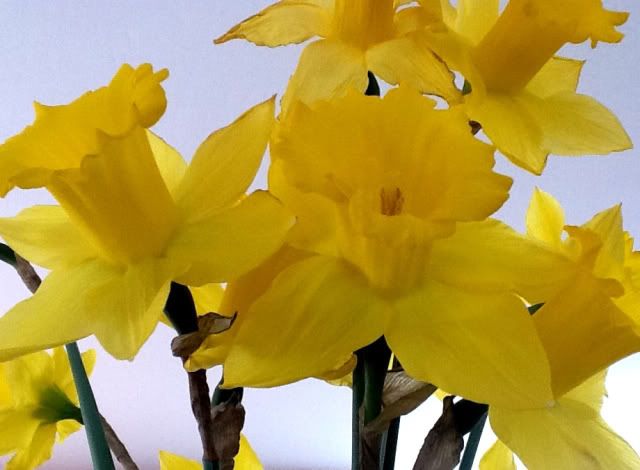 Daffodil season will have been a bust. They burst out of the ground prematurely, and found they don't like the warm weather. Anyway, we think it's going to rain again, maybe pour.
So they're doomed.
I sometimes try cutting a bunch of daffies and putting them in a water-filled vase, indoors. It never works. The daffodils want to be in the ground, and no heroic messing with their lifespan will null their death wish, indoors or out.
Why do people plant daffodils? They have such a short spectacle. Maybe it's because they come early and help ease the tortured, midwinter psyche, just with their bravura. They have a very minor aroma, a good one, but skimpy. Once the flowers have died, you are supposed to leave the leaves. A brown, drying mess that somehow helps the soil or the plant, so you don't remove them. I only have daffodils because I inherited some in two of my houses.
I will have taken care of them for 20 years, now.
You'd think I like them.