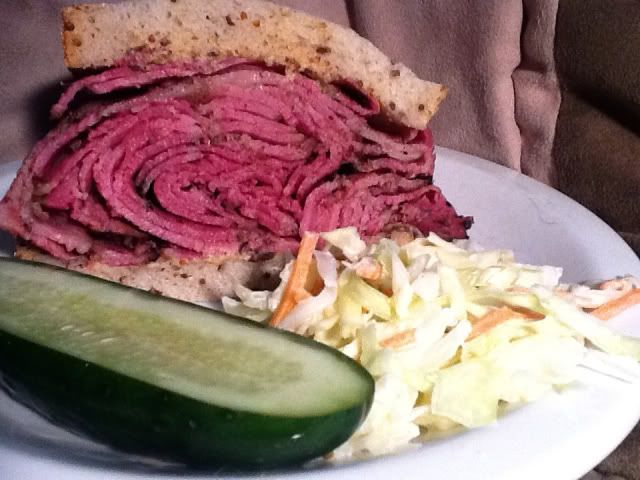 This pastrami sandwich was really tasty, but I have to confess I removed about half the meat before eating. We'll think of something clever to do with it as soon as the appliance guys are out of the kitchen later this week.
The half sour pickle was a delight, coming across all innocent cucumber at first, and then killing you with garlic. And the cole slaw was so good, I wonder where to find the vial of happy drops they are surely adding.
An East Coast deli on the West Coast. Nice, but not all that hard to imagine. You just imitate, exactly, the best deli you've ever had in New York. But the decor? Also imitating New York, or your version of it. Tile and Formica. Goofy artwork on the walls. No pretensions (except to be a New York deli).
Look, guys. We all know we're in California. Couldn't there be a Wasabi Corner in the decor? A Shag You Conversation Pit somewhere? Tiki Tova's Pickle Hut?
No, because that would just be pretend. Made up. About as original as recreating a New-York style theme park for your restaurant.
I don't mind. My food was take-out, anyway.
And it was really good.
Miller's