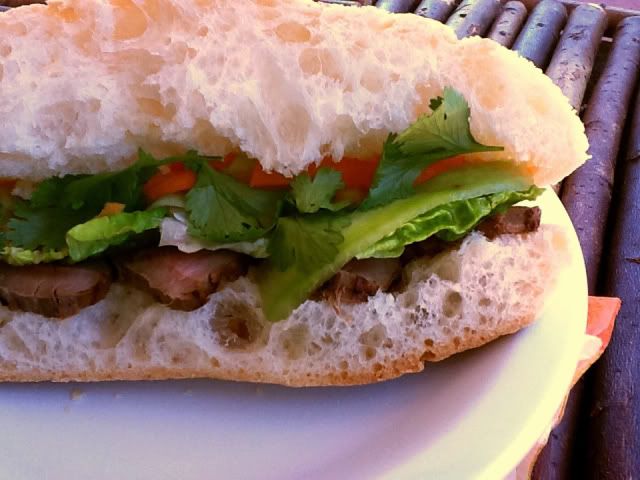 There was a little grilled teriyaki pork tenderloin left over.
I know. Left over? Those tenderloins are so small, I think Cranky and I devoured the first one we grilled, years ago, in a single sitting.
This one was a little more generous. And the teriyaki flavor was stupendous. (No bottled sauces, please; you can easily make your own.) We immediately thought of bánh mì sandwiches, and who'd have known, a decade or so ago, that a pair of old whities like us could make bánh mì at home?
We were liberated, in fact, because in my kitchen, it's my way. So, I did it my way. Well, Cranky's way, too. He doesn't care for daikon, so no daikon. We whipped up quick pickles of shaved cucumber and carrot. Pulled little tender lettuce leaves. Sliced the meat and plucked cilantro leaves.
We debated a light slather (is a slather ever light?) of mayonnaise mixed with a squirt of sriracha... and decided no, because of the tasty meat marinade.
In retrospect, I only wish I had gone for that slather.