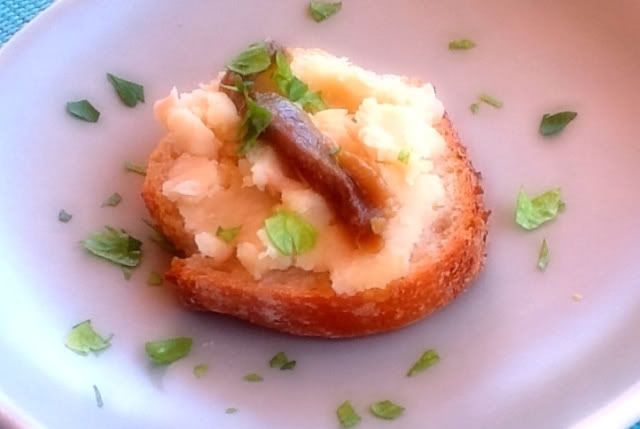 White bean bruschetta. Who doesn't love that? Over the years I've learned to make the bean mash lighter (save your bean cooking water for a loosening dollop if you need it), maybe a little oilier with superb oil. This time it was seasoned with minuscule dustings of herbs and chile powder. A squeeze of lemon juice!
How could it be any nicer?
Well, I had an idea. A completely original idea, mine alone. Nobody would have thought of this.
I was going to place a strip of anchovy over the beans. I felt like I was inventing Barcelona!
We had bought some fantastic anchovies a few months ago at Whole Foods. They were sold in a little plastic butcher's tray, like fresh meat. They were vivid, kinda red, and firm. Best thing ever.
Turns out we couldn't finish all the little fishes, so Cranky preserved them in a small jar with a covering of olive oil, in the fridge.
They turned mushy. The magic was gone. The flavor was good, though... Or was it even a little stronger?
Cautiously, I only used a tiny strip, halved lengthwise, on my first bruschetta (untoasted bread). It was good, everything was good, but it was just too strong.
Next, I skipped the seafood entirely and enjoyed a simple bean sandwich, open faced. It was good, too, but I missed that oceanic smack in the mouth.
Third bruschetta, I smeared the beans on, and drizzled drops of anchovy-flavored oil from the jar. That was the winner. Don't throw away your anchovy oil.
Oh, yeah, so I Googled "white bean bruschetta with anchovies," and I got several hits. It is already invented. You can't invent any new food.