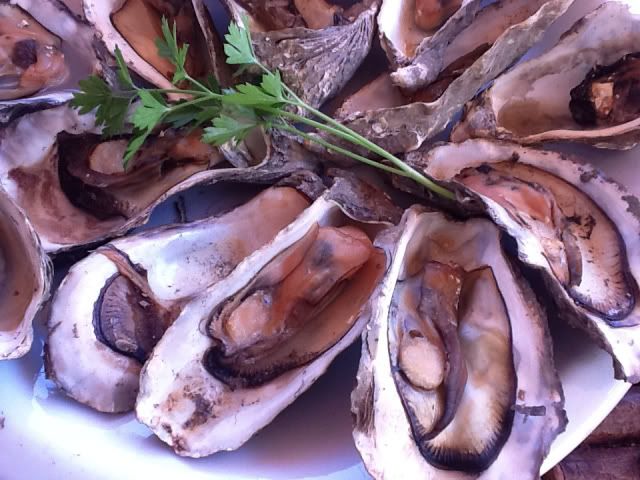 Why did I never try this before?
Has anybody else tried this before? Because I will come over and damage your wind chimes for not telling me. (And the neighbors will like me!)
This is local oysters, smoked in the back yard. Ate 'em about an hour ago.
My parents had a lot of Navy cocktail parties when I was young, and the stuff they served was strictly off-limits to me. Hence my abiding attraction to smoked oysters. Nowadays canned smoked oysters creep me out, with the poisonous soy oil and Chinese melamine. So no smoked oysters.
But look! Pop the top shell off a dozen or so fresh bivalves. Slide them onto the top rack of the smoker. Wait a measly hour or so. You get smoked oysters!
The smoke was perfect, and the texture of the meat was very good, though a bit glued onto the shells for the smaller ones. Next time, I'd say shuck the oysters completely out of the shell, apply a little olive oil, put the meat back in the shells, and smoke 'em if you got 'em.
Cranky's perfect idea was to squeeze lemon juice on the oysters when we served them, followed by a drizzle of olive oil, and man. That was perfection.
I am so stunned. Why did I never try this before?