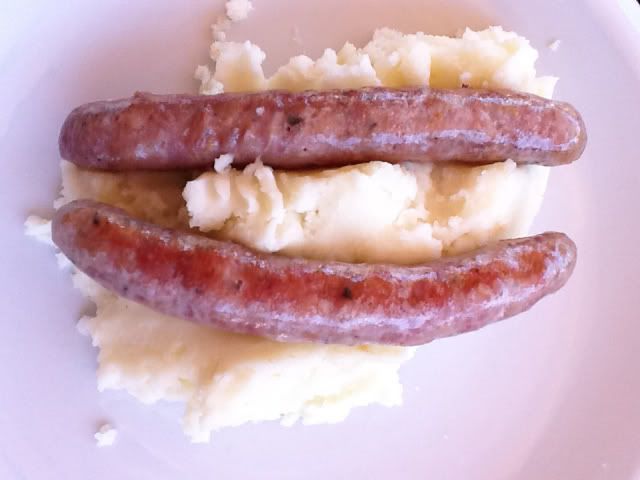 It looks like bangers and mash, but it's breakfast sausages and mash.
I found it a bit startling to pile the sausages right on top of the taters, but that's the way Cranky's mum always did it, and she was born of English immigrants. She used those little dinky link breakfast sausages, and arranged them artistically over the spuds. So he says.
Our breakfast sausages came from Chris Cosentino's Boccalone, and Chris credits his Rhode Island mother for the recipe, fragrant with orange zest.
Cranky spent much of his youth in Rhode Island, maybe even eating his own mother's loving creation there a time or three.
So there's a Rhode Island mothers links link.
We could have dressed it up with a little gravy, or at least a side of peas. (Nobody wanted to shell the peas.)
But it was really fun to eat. Especially fun with those juicy, squirty sausages making little bursts in your mouth with each bite.
Mainly, though, I'm just wild about the picture. It's such a naive, earnest plate of food. And Cranky did the arranging.