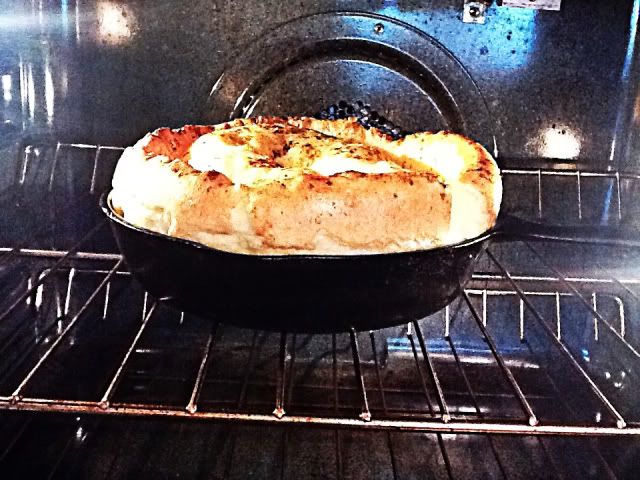 When is Christmas dinner? On Christmas Eve, or on Christmas Day?
I know, it depends on your family tradition. I didn't know when Christmas dinner was when I was growing up. Mom was always changing the family tradition. One year she had us all open every present on Christmas Eve! I was horrified. What would Christmas Day be? (Nothing, as it turned out. And no special dinner. What a waste.)
Cranky and I decided, long ago, that Christmas dinner would be on Christmas Day. It just makes sense. It's Christmas. And Christmas Eve is a little bit fraught with anxiety; no fun munching on a green bean casserole then. For Christmas Eve, we usually go a little swanky-appetizers style. Last Saturday we had fresh Dungeness crab with squeezes of lemon and dabs of mayo.
OK, not the point, really. Whichever day you choose for your feast, I have a little suggestion. If you are having roast beef and Yorkshire pudding, that is. The reliable old recipe for Yorkie from the Joy of Cooking can't be beat. But I beat it the other night, easy-peasy and worth a dare.
The cookbook advises that you cook the pud in a glass or ceramic dish. Fine; I've always done so, and got great poofy corners, but sad, sunken middles. The other night, we had seared our beef in a cast-iron skillet before oven time, and there was a great, well-flavored vessel just sitting there.
We didn't have enough beef fat, but we slid the skillet into the oven with pats of butter until everything got hot and brown. Yes, brown butter! I scraped the pudding batter right into the forbidden skillet, and got a souffle effect like I've never seen.
A work of explosive culinary art. Don't have to wait a whole year to try this again. (But what will we call the dinner?)