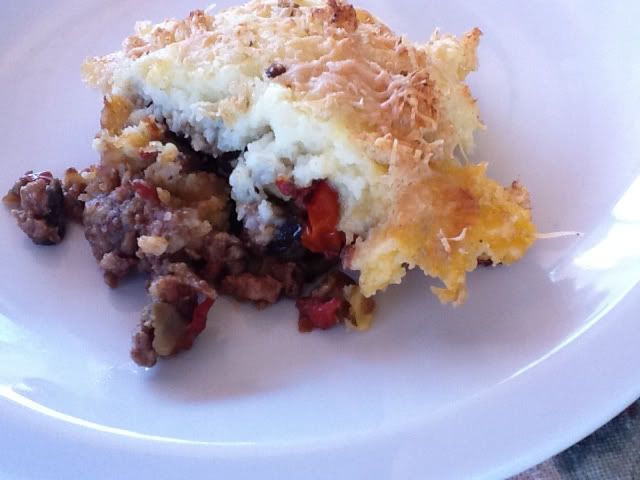 OK. All right.
Anyway.
Ya gotta eat. I came across a recipe in the NY Times for a moussaka made without béchamel. I think that deserves an exclamation point!
Yargh, béchamel. I mean, it has its purpose here and there, but it is not a happy afterthought to food. "Wouldn't this look nice with a clammy white gloop on top?"
We had just concocted a roasted onions dish from the NYT, which was smothered in béchamel. It did not pass the happy test. Perhaps that was why we were all over the modified moussaka. And it was good.
This version is just a bit like shepherd's pie, but with fewer vegetables. The genius is that it has an egg yolk and Parmesan cheese stirred into the mashed potato topping. I could eat that every day. Oh, plus a petite grating of nutmeg.
The meat mixture called for cinnamon and cloves, which scared the crap out of me. But we soldiered on. Hm. No ground cloves in the spice treasury. Fine, allspice will do, and it did very well indeed.
Verdict: Damn yum. This is going into heavy rotation.
And the ground meat? It was goat. I think that deserves an exclamation point!