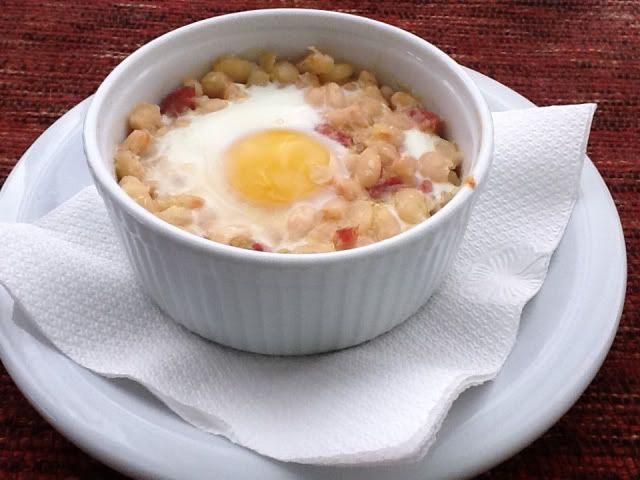 Just so you know, every word I write here today is pulled, burning and screaming, from my relentless memory loop of the UC Davis kids getting pepper sprayed. The chief of UCD police claimed his men were surrounded! By peaceful kids sitting on the ground.
Anyway, this cheese sandwich post is filled with good feelings, and was a good, temporary antidote to the image of that bastard squirting students in the face as casually as if he were watering his roses.
The idea came from
Ilva
, who posted a dish of peas mixed with pancetta, topped with an egg, and baked. It looked awesome, but I just sort of gagged at the idea of baked peas. I would substitute white beans. I looove white beans. We are a white bean household.
First, you have to get your white beans cooked. It is good to be prepared. I was relieved, upon seeing still photos of the UC Davis atrocity, that most of the kids turned their faces away from the stream of capsaicin. Be prepared! OK, once your beans are ready (and a little soupiness is fine), stir in a judicious amount of minced ham. Then get out your canning funnel. This thing is a certain Mr. C.'s new favorite gadget.
How to proceed. Keep calm, and humiliate the police officers. Shout "Shame on you! Shame on you!" I saw one cop without a riot helmet; he looked so mortified. The rest of the squad was sort of nudging the miscreant with the hot sauce away from the kids. "We done wrong." Oh, OK, just settle the canning funnel into the little cocottes of beans, and spoon out some from within the funnel. Now, crack an egg in this indentation, remove the funnel, and spoon the spare beans back over your dish.
Fifteen minutes in a 350F oven, and I got a nice, semiliquid yolk! This was wonderful, and so nutritious. A happy ending.
No, I'll tell you the happy ending. It was when those arrogant thugs gained a shred of decency. They acted as if they actually believed they were in danger, but they began to move away from the students and cluster in an embarrassed huddle. They stepped away like a flock of penguins, or the Burghers of Calais. Clip-clop, clip-clop, those fat dicks shuffled off.