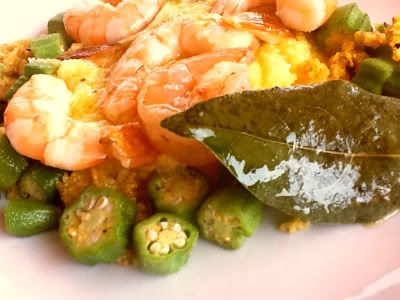 I am open to suggestion. Talk about food, and I will find a way to incorporate our conversation into an upcoming meal.
Here's a fun example. Not long ago, a blog pal was mulling over the idea of cornmeal mush. She was certain she'd never eaten any, and decided it probably tasted nasty. I told her it was lovely, actually. American polenta. And if you make extra, you can spread some in a dish, about half an inch deep, chill overnight, and the next morning you'll cut delicate slabs out to fry gently in butter. Maple syrup!
This is true; it's a valid childhood memory of mine, and it's good. We really did call it cornmeal mush, by the way. We didn't have a fancier name for it. And now I wanted some.
Meanwhile, another blog pal has been spending the summer in the land of her heritage, the American South. She wanted shrimp and grits for her birthday supper, and that's what she got. I think. I know she got shrimp and grits sometime on her visit.
I didn't know shrimp and grits was a "dish." I like shrimp and I like grits, but this is a "together" item. Some cooks even have you stir the cooked shrimp into the grits (blech!). And now I wanted some of that.
Cranky and I did what Cranky and I do: we proceeded without a recipe. We're good at a tasty, almost Creole, preparation of shrimp in oil, garlic and herbs. That would go on top of the grits. But there were no grits. Cornmeal mush to the rescue. (You genuine Southerners may scold me here.)
To round things out, we fried up some okra. We've always had success with our cornmeal coating, but Cranky, for some reason, followed a recipe. Pow-la Deeeeeeen! Y'all let us dah-yown! The batter didn't stick. At all. Ah well.