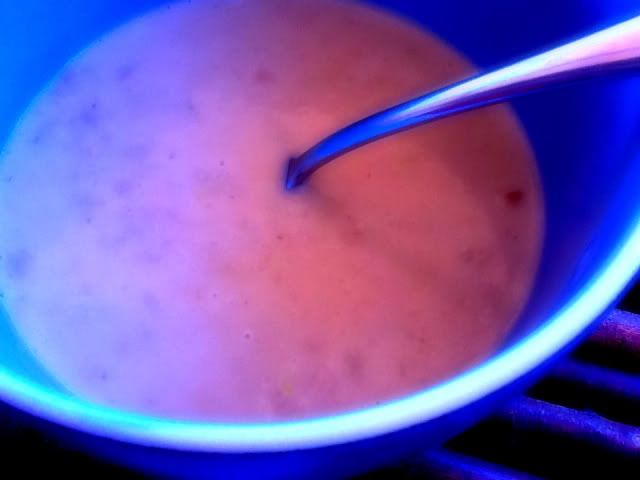 You fall through a rabbit hole, and everything's magical, mysterious, but still as real as can be.
You come upon this glowing bowl of soup with a sign on it that says "Eat Me," and you eat it.
Your head starts to spin, in a nice gentle way. You are happier than you've ever felt. Have you been drugged?
No, you have tasted Tuscan Garlic and Bean Soup.
I have to laugh whenever a recipe, or a style of patio furniture, or your roofing tiles is called "Tuscan." What, am I suddenly wearing wrought iron and terra cotta? Should I purchase a palazzo to renovate and fall in love with a hunky Italian guy? That's somewhat dreamy, but I'm afraid the real Tuscany has become overrun with fever-dreaming American ex-pats. Speaking bad Italian, if at all.
Back to the rabbit hole (which is my dream, actually, especially if it has WiFi and I can swipe recipes like this one). There's no point in linking to the recipe, because the version I read was already a departure from a previous recipe... And who knows how original that was?
Cook some white beans. A cup of dried. I will not tell you it's OK to use canned. Drain, saving the liquid, and reserve the beans.
Cut up two cloves of garlic and one plump shallot (these quantities serve two generously). Cook the alliums in oil until tender, and then pour in two cups of well-seasoned chicken stock. Add most of the beans, and hit this mess with an immersion blender. Want more beans in there? It's nice to have some whole. You decide. Do you need more liquid? Splash in a little of the bean water. Oh, seasonings. Gah. I always cook beans with a bay leaf, and our chicken stock is already deeply herby. Check for salt. Here comes the Mad Hatter. You are going to glug in a decent amount of cream.
You have been drugged.